Our annual Federal funding is based on the number of meal applications that are returned and approved each year. This determines how much funding our school will receive the following year to support students. Federal funding pays for our afterschool programs including T.E.A.M. tutoring, interventions, and Homework Center, and it also pays for supplies, books, and technology equipment for classrooms.
In order for us to sustain our afterschool programs next year, we must maintain Federal funding status. Without Federal funding next year, BVH will likely close all afterschool programs and this will be very detrimental to our students. Our deadline for meal application submission to qualify for our Federal funding next year is Friday, October 30th.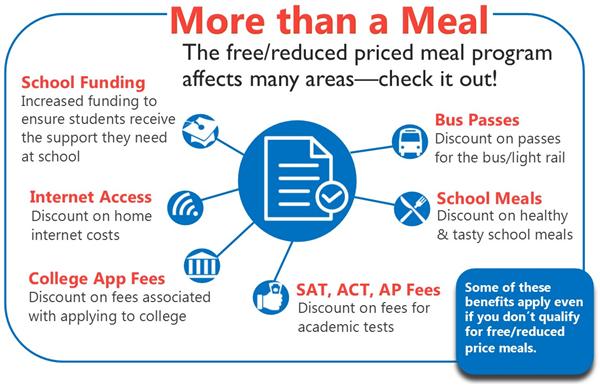 Please support your child and your school by completing a meal application today and/or prior to Tuesday, October 30th.
You can submit an online meal application via the Campus Portal HERE. You can also complete a paper application at the school's Main Office or Parent Resource Center (Room 1203).
——–How to Apply——–
To participate in the National School Lunch Program please complete a Free or Reduced price meal application for your child(ren).
AVAILABLE NOW: Paper and Online Meal Applications
Paper Application
Paper Applications can be picked-up and returned at School Sites and/or the District Office.
Applications will be available to fill out, pick-up and/or drop-off at the District Office outside of the Nutrition Services Building, Monday-Friday from 8am to 12pm

There will be tables outside of the office with blank applications to fill out and boxes to drop-off your application

If you have any questions or need assistance with filling out your application please make an appointment by calling Nutrition Services (619) 691-5510. (M-F, 8am-12pm)
If coming in person you will need to wear a mask and the practice social distancing guidelines.
Online Application
Online applications may be completed on the Parent Portal, which keeps data secure, confidential and ensures that the application is completely filled out.  This accelerates the application review process and determination of your child's eligibility status. You may complete and submit an application here.
Must have username and password to login
Students must be registered with their school before applying for meals
**To learn how to fill out an online application, click here for the Power Point Tutorial.**