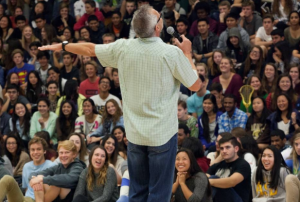 We have an outstanding speaker, Tyler Durman, coming to Bonita Vista Middle School to speak to our parents about communicating with teenagers. He offers two presentations and he has been in our school twice before. We get most of our parents in the evening session. We would like to open the opportunity to Bonita Vista High School parents to come over and learn from this opportunity.
Due to our facility capacity, we can only host 247 parents.
The date is Tuesday, October 29, 2019.
Location: BVM Cafeteria (Capacity 247)
Time: 8:30AM-9:45AM
Questions and RSVP to luis.rodriguez@sweetwaterschools.org