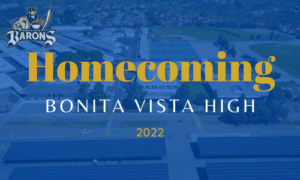 Hello Baron Family,
In preparation for our Homecoming Game next Friday, we wanted to share the following details:
~ Our Homecoming game takes place at Southwestern College on October 28th at 6:30pm. Gates open at 5:30pm.
~ Ticket prices are $7 for students and children ages 5 to 12 and $9 for adults. Ticket sales begin at 5:30pm.
~ Ticket sales windows and entry gates will close five minutes before halftime and remain closed for the duration of the halftime show so that all those assisting can enjoy the halftime performance and King and Queen coronation. Please arrive early for parking, gate entry, and seating.
~ We will also be honoring our Senior football players and Senior Cheerleaders prior to kick-off. If you are attending early to view this portion of the night's events, please arrive early.
~ To help our students and families, the ASB Office will continue selling tickets for the Homecoming game at the ASB Monday, October 24th through Thursday, October 27th. Students may stop by the ASB windows to purchase game tickets at Nutrition Break and Lunch.